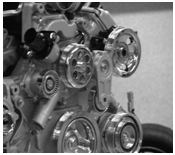 A.Field description:
Mechanical engineering, covering a broad range of topics, requires understanding core concepts including mechanics, kinematics, and thermodynamics and updating the latest technologies like robotics, FEM, and nanotechnology.
B.Education Guide
Education Details & Eligibility:
To become a mechanical engineer, one should have a graduate degree (B.E /B.Tech) or at least a diploma in mechanical engineering. The degree and postgraduate degree courses are offered by private and government engineering colleges.
Basic eligibility criteria:
Higher Secondary students with 1st or 2nd group as their major or Diploma holders in Mechanical Engineering can choose bachelor's degree in Mechanical Engineering (B.E).
Degrees in mechanical engineering are offered at universities worldwide. In India, mechanical engineering BE programs typically take four years.
In China and North America, mechanical engineering programs typically take four to five years and earns a Bachelor of Science (B.Sc), Bachelor of Technology (B.Tech), (Bachelor of EngineeringB.E),or Bachelor of Applied Science (B.A.S) degrees, in or with emphasis on mechanical engineering. In Spain, Portugal and most of South America, where neither B.Sc nor B.Tech programs have been adopted, the formal name for the degree is "Mechanical Engineer", and the courses work is based on five or six years of training. In the U.S., most undergraduate mechanical engineering programs are accredited by the Accreditation Board of Engineering and Technology (ABET) to ensure similar courses requirements and standards among universities.
Approximate Education Expenses:
The total expense for doing Bachelor of Engineering in Mechanical Engineering is as follows:
B.E (4 years) - Rs.50000/ per year
M.E (2 years) - Rs.50000/ per year
Bank loans and private loans can easily be arranged by directly contacting the banks through the college administration.
Additional Courses:
Being a mechanical engineer, a short-term courses in design or production could be useful to enhance your career. The following things can be undertaken/developed by the student to boost up his/her career in the particular field:
Design Courses: Auto-CAD, Pro-E, Catia, Ansys
Production Courses: Programming in CNC
Higher Education Options:
After successful completion of the bachelor's degree, the options for higher education are plenty. A person with the above degree can opt for Master of Engineering or do an M.B.A.

C.Institutions that offer Mechanical Engineering Courses:
Almost all the deemed and general universities offer bachelor's degree in mechanical engineering.
For more information on colleges visit www.StudyGuideIndia.com
D.Job Opportunities and Job Roles:
Mechanical Engineers are required in all manufacturing facilities. A person who has completed BE has wide opportunities in the following fields of industries.
Manufacturing, Power Plants,
Design etc.,
A beginner in Mechanical Engineering can opt for various job openings such as:
Maintenance Engineer,
Quality Assurance,
CNC Programmer,
Jr Engineer,
Design Engineer,
CAD/CAM Trainer,
Production Supervisor/Engineer,
R & D trainee.
E.Approximate Salary Range:
The salary can be from Rs.7,000 to Rs.15,000 for beginners and increases with experience and knowledge.
F.Related Links:
The American Society for Mechanical Engineers is a premier society established for mechanical engineers all over the world.
Web site link: www.asme.org
Other Mechanical/Industry/Instrument Career Option Archive