A.Field description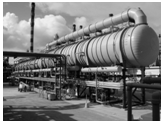 Industrial engineering is also referred to as operational management, system engineering, production engineering, manufacturing engineering or manufacturing system engineering. In healthcare, industrial engineers are more commonly known as management engineers or health systems engineers. Industrial Engineering is a specialized branch of Mechanical Engineering that enables engineers to improve efficiency and effectiveness of both manufacturing and service sector Industries.
B. Education Guide
Education Details & Eligibility:
The admission to undergraduate program at the institute for the session 2008-09 was made on the basis of the merit of AIEEE-2008 conducted by CBSE through the Central Counseling Board Constituted by MHRD, Government of India. The reservation policy will be as per the decision of the MHRD. The eligibility for admission under the home state quota is 10+2 pass in the discipline approved by AICTE.
Basic eligibility criteria:
+2 (Higher Secondary students) with 1 st or 2nd groups as the majors or Diploma holders in mechanical engineering can choose Bachelor degree in Industrial Engineering (B.E). For M.E courses, candidates should complete their relevant U.G courses in Industrial Engineering.
Course Duration:
The course duration for the Industrial Engineering depends on the institutions that offer the course.
B.E Courses 4 years
M.E courses 2 years.
Postgraduate curriculum:
The postgraduate programs in industrial engineering have long been held as probably the most diversified program across industries. The usual postgraduate degree earned is the Master of Science in Industrial Engineering/Industrial Engineering & Management/Industrial Engineering & Operations Research. The Course offering degree MS in IE/IE&M/IE & OR curriculum includes:
Operations Research/Optimization Techniques
Operations Management
Supply Chain Mgmt & Logistics
Simulation & Stochastic Models
Manufacturing Systems
Engineering Economics
Corporate Planning
Human Factors Engineering/Egonomics
Productivity Improvement
Production Planning and Control
Computer Aided Manufacturing
Material Management
Facilities Design and/or Work Space Design
Statistical process control | Statistical Process Control or Quality Control
Time and Motion Study
Undergraduate curriculum:
In the United States, the usual undergraduate degree offered is the Bachelor of Science in Industrial Engineering (BSIE). BSIE curriculum includes introductory chemistry, physics, economics, mathematics, statistics, properties of materials, intermediate coursework in mechanical engineering, computer science, and sometimes electrical engineering, and specialized courses such as the following:
Systems Simulation
Operations Research and/or Optimization
Combinatorial Mathematics
Engineering Economy
Engineering Administration/Management
Human Factors or Ergonomics
Time and Motion study
Manufacturing Engineering
Production Planning and Control
Computer Aided Manufacturing
Packaging engineering
Facilities Design and/or Work Space Design
Logistics and/or Supply Chain Management
Statistical Process Control or Quality Control
Stochastic Systems
Discrete Event Simulation
Linear Programming
Non-Linear Programming
Queuing Theory
Probability
Organizational Behavior
Statistics
C. Approximate Education Expenses
The Total expense for Bachelor of Engineering and Master of Industrial Engineering is as follows
B.E - Rs. 20,250 per year - (4 Years)
M.E - Rs. 25000 per year - (2 Years)
Bank loans and private loans can be easily availed by directly contacting the banks through the colleges administrators.
Additional Courses:
For an industrial engineer, a short-term course in design or production could be useful to enhance his career. The following course can be taken by students to boost up his/her career in the particular field.
Design Courses:
Production Course:
Programming in CNC
Higher Education Options: After successful completion of the Bachelor degree, the options for higher education are plenty. A person with the above degree can opt for Master of Engineering or M.B.A in Industrial Engineering or in Master of Science aboard.
For further details on courses please visit www.StudyGuideIndia.com
D. Institutions that offer these courses
Almost all the deemed and general universities offer Bachelor degree and Master Degree in Industrial engineering.
E. Job Opportunities and Job Roles
Sixty percent of industrial engineers are employed by manufacturing companies, but industrial engineers can be selected in every kind of organization like banks, hospitals, finance, agriculture, public utilities, wholesale and retail trade, transportation, construction, and government.
Recent changes such as advancement in computer technology, automation of manufacturing systems, developments in artificial intelligence and data base systems, the revolution in management practices have rendered enormous opportunities for these industrial engineers and increased the emphasis on strategic planning.
To be specific, industrial engineers get employed in Industries concerned with plant efficiency and quality control. Instrumentation / production Engineering involved in designing, constructing and maintenance of instruments and can take up focus in Government, Public and private sector.
They can engage in construction and maintenance of sailing vessels. A person who has completed B.E has wide opportunities in the following fields of industries.
A fresher in Industrial Engineering can opt for various job openings like

Jr. Engineer.
CAD/CAM Trainer
Production Supervisor/Engineer
R D trainee.
F. Approximate Salary Range
The salary can be in the range from Rs.7, 000 to Rs.15, 000 for freshers and increases in ratio to experience and knowledge.
G. Related Links
The IAENG Society of Industrial Engineering (ISINDE) is organized for the industrial engineers and the scholars in the industrial engineering discipline. Through regularly scheduled conferences and workshops on industrial engineering, the ISINDE serves as a forum for networking, information sharing, idea exchange and problem solving for the industrial engineering community
Web site link: http://www.iaeng.org
Other Mechanical/Industry/Instrument Career Option Archive