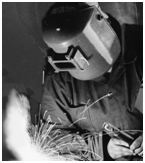 A. Field description:
Fabrication Technology, an engineering discipline, trains in developing technically competent, socially committed and disciplined manufacturing engineers with creative ability, innovative thinking and managerial skill to manufacture quality products for the benefit of the mankind. The focus is on Metal Fabrication and Welding, utilizing a range of metals, e.g. steel, aluminium and brass.
Training is provided in core engineering subjects needed in developing machinery, equipment, products and processes. Students also work closely with computer-aided design and modeling, computer-controlled manufacturing and automatic testing.
B. Education Guide
Education Details & Eligibility:
To become a Fabrication (Production) engineer one should have a graduate degree (B.E /B.Tech) or at least a diploma in Mechanical engineering. The degree and postgraduate degree courses are offered by private and government engineering colleges.
Basic eligibility criteria:
+2 (Higher Secondary students) with 1 st or 2nd group as the major or Diploma holders in mechanical, automobile engineering, production engineering can choose Fabrication Technology (Production Engineering) course in Bachelor's Degree.
Course Duration:
Degree in Fabrication Technology are offered at universities worldwide. In India Fabrication Technology (Production Engineering) programs typically take four years .In some Universities abroad, Fabrication Technology (Production engineering) programs typically take four to five years and result in a Bachelor of Science (B.Sc), Bachelor of Technology (B.Tech), Bachelor of Engineering (B.E), or Bachelor of Applied Science (B.Sc) degree, in or with emphasis on mechanical engineering.
The course duration in India for
Diploma: 2 to 3 years.
Bachelor's Degree courses: 4 years.
Master Degree (M.E): 2 years.
Course Syllabus:
Some of the major subjects covered in fabrication technology are:
Strength of Materials, Machine Drawing, Thermal Engineering, Theory of Machines, Manufacturing Processes, Industrial Organization and Management, Strength of Materials, Design of Machine Elements, Fluid Mechanics & Fluid Machinery, Statistics and Numerical Analysis, General Fitness, Advisory meeting, Computer Integrated Manufacturing, Non-Traditional Machining, Machine Tool Design, Industrial Automation and Robotics, Industrial Engg, Modeling and Simulation, Product Design and Development, Tool and Cutter Design, Environmental Science Engineering, Materials and Metallurgy.
C. Approximate Education Expenses:
The total expense for doing Bachelor of Engineering in Mechanical Engineering is as follows
B.E - Rs.50000/ per year - (4 Years)
M.E - Rs.50000/ per year - (2 Years)
Bank loans and private loans can be easily arranged by directly contacting the banks through the college administration.
Additional Courses:
The following courses can be undertaken/developed by the student to boost up his/her career in the particular field.
Production Courses:
Programming in CNC, etc.,
Certificate II in Engineering - Production Technology
And some of design software like Auto CADD, Staad Pro, Pro-E, Catia, Solid Works.
ASNT NDT LEVEL II (RT,UT,PT& MT)
Higher Education Options:
After successful completion of the Bachelor degree, the options for higher education are plenty. A person with the above degree can opt for Master of Engineering or do M.B.A. and also some institutions offer Ph.D. courses in fabrication.
D. Institutions that offer this Education:
For details on colleges please visit www.StudyGuideIndia.com
Job Opportunities and Job Roles:
A person who has completed B.E has wide opportunities in the following fields of industries.
Manufacturing
Automobile
Aeronautics
Fabrication
Design etc.,
A fresher in Production Engineering can opt for various job openings like:
CNC Programmer.
Jr. Engineer.
Design Engineer.
CAD/CAM Trainer
Production Supervisor/Engineer
Quality Control Engineer
R & D trainee.
E. Approximate Salary Range
The salary can be from Rs.7,000 to Rs.15,000 for freshers and increases with experience and knowledge.
E. Related Links:
www.aws.org
www.agma.org

American Foundry Society(AFS)
www.afsinc.org.
Other Mechanical/Industry/Instrument Career Option Archive