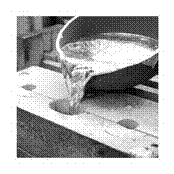 A. Field description
A foundry specializes in producing metal castings. Metals are cast into shapes by melting them into a liquid, pouring the metal in a mold, and removing the mold material or casting after the metal has solidified as it cools. Though common metals processed are aluminum and cast iron, steel, magnesium, copper, tin, and zinc are also used to produce castings in foundries.
B. Education Guide
Education Details & Eligibility:
To become an engineer in casting related fields one should have a graduate degree (B.E /B.Tech.) or at least a Diploma in related fields of engineering. The degree and postgraduate degree courses are offered by private and government engineering colleges.
Basic eligibility criteria:
+2 (Higher Secondary students) with 1st or 2nd group as the major or Diploma holders in mechanical engineering can choose Bachelor degree in Engineering (B.E ) .
Approximate Education Expenses:
The total expense for doing Bachelor of Engineering is as follows
B.E - Rs.50000/ - 1,00,000 per year - (4 Years)
M.E- Rs.50000/ per year - (2 Years)
Bank loans and private loans can be easily arranged by directly contacting the banks through the colleges administration.
C. Institutions that offer this Education
Almost all the deemed and general universities offer Bachelor degree in related fields of casting engineering.
For details on colleges, please visit www.StudyGuideIndia.com
D. Job Opportunities and Job Roles
Both foundry and forging will require following people:
Mechanical Engineer - To maintain overall production process
Metallurgist To maintain metal composition
Foundry Engineers manage helpers
Foundry Helpers To work on machines
Electrical Engineer if they use electric arc furnace for heating metal.
A fresher can opt for various job openings like :

Jr Engineer.
Design Engineer.
Production Supervisor/Engineer
R & D trainee.
F. Approximate Salary Range
The salary can be from Rs.7, 000 to Rs.15, 000 for BE freshers and increases with experience and knowledge.
The salary can be from Rs.4, 000 to Rs.7, 000 for DME freshers and increases with experience and knowledge.
The salary can be from Rs.3, 000 to Rs.5, 000 for ITI freshers and increases with experience and knowledge.
G. Related Links
AFS is one of the leading U.S. based metal casting societies that assists member companies (metal casting facilities, die casters and industry suppliers) and individuals to effectively manage all production operations, profitably market their products and services and to equitably manage their employees
Web site link: http://www.afsinc.org
Other Mechanical/Industry/Instrument Career Option Archive