A.Field description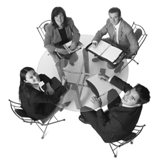 The purpose of an organization is to sell its product/services, and this is accomplished by marketing and sales support solutions. They help clients optimize marketing and sales productivity and accelerate revenue maximization activities.
B.Education Guide
Education Details & Eligibility:
To become a Professional in this industry, one should have a graduate degree in marketing. The degree and postgraduate degree courses are offered by private and government colleges in India and around the globe.
Basic eligibility criteria:
10 +2 (Higher Secondary students) with any group as the major can choose Bachelor degree in marketing. For admission in M.B.A in various institutions, the following admission tests must be taken
Course Duration:
The course duration for the various programs is as follows:
B.B.A. is three years
M.B.A is offered as a two year program in various universities.
PG Diploma is a two year course
Approximate Education Expenses:
The total expense for doing Bachelor's are as follows
B.B.A. - Rs. 45, 000/ per year - (1 Years)
M.B.A - Rs. 56, 000 - 2,00,000/per year - (2 Years)
Bank loans and private loans can be easily arranged by directly contacting the banks through the college administration.
C.Institutions that offer this Education
Almost all the deemed and general universities offer Bachelor degree in marketing. For details on colleges please visit www.StudyGuideIndia.com.
D.Job Opportunities & Job Roles
The jobs in this industry are listed below:
Advertising Relations
Sales person survey and analysis
Client Satisfaction and Custom Research
Customer reference management
Public Relations Support
Market Research
Non-Profit organizations
Marketing Coordinator
Product Management.
E.Approximate Salary Range
The salary can be from Rs.13,000 to Rs.38,000 for starters and increases with experience and knowledge. Trainees with a management degree can receive Rs 2.5 lakhs per year.
F.Related Links
The Society for Marketing Professional Services (SMPS) was created in 1973 by a small group of professional services firm leaders who recognized the need to sharpen skills, pool resources, and work together to create business opportunities.
Web site link:http://www.smps.org//links.htm
Other Sales/Marketing/Support Career Option Archive