Career Option in Nutrition And Dietetics
A. Field description: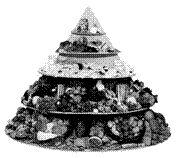 The sedentary lifestyle coupled with immeasurable stress, strain and tensions have lead to an increase in ailments and maladies like hypertension, diabetes, cholesterol, heart attacks and so on. There is an increasing awareness globally about the need to stay healthy by following the right diet. Nutritionists and dieticians help plan the right diet for a fee.
B.Education Guide:
Education Details & Eligibility:
To become Nutrition and Dietetics professional, one should have a graduate degree B.Sc / M.Sc or at least a diploma. The degree and postgraduate degree courses are offered by private and government colleges.
Basic eligibility criteria:
+2 (Higher Secondary students) with 1 st group as the major with 60 percent aggregate or Diploma holders preferably in the fields of Hotel management, Nutrition, Home Science, Bioscience related fields can choose for a Bachelor degree in nutrition and Dietetics.
Course Duration:
The course duration for the various programs is as follows:
B.Sc (Food Science and Nutrition) is three years or six semesters
M.Sc (Foods and Nutrition) is offered as a two year program in various universities.
PG Diploma in Nutrition and Dietetics is pursued as a one year course.
C. Institutions that offer this Education:
Almost all the deemed and general universities offer Bachelor degree in Nutrition and Dietetics.
For details on college please visit www.StudyGuideIndia.com
D.Approximate Education Expenses:
The Total expense for doing Bachelor degree in Nutrition and Dietetics are as follows
B.Sc - Rs.50, 000/ per year - (3 Years)
M.Sc - Rs.75, 000/ per year - (2 Years)
Bank loans and private loans can be easily arranged by directly contacting the banks through the colleges administration.
Additional Skills:
An individual aspiring for a career in Nutrition and Dietetics should have a preliminary knowledge in biology, biochemistry, and physiology as well as the sociological and psychological dimensions of human nutrition.
After completion of the undergraduate course in nutrition, it is preferable to undertake a written examination, conducted once a year by the Indian Dietetic Association, to be qualified as Registered Dietitian.
A professional in the field of nutrition and dietetics should have/develop good communication skills to interact with people individually and in groups and good writing skills for producing reports, leaflets etc are essential. One should have patience and genuine concern for fellow beings. They should also have planning and administrative skills and organizational ability. Dieticians need to be fit and healthy and able to work as a team member.
Higher Education Options:
After successful completion of the Bachelor degree, the options for higher education are plenty. A person with the above degree can opt for Masters Degree in Nutrition.
Masters degree in nutrition is offered in different specializations in quite a few colleges, including
M.Sc., Clinical Nutrition
M.Sc., Foods and Nutrition
M.Sc., Food Service Management
M.Sc, Food Technology
Obtaining a doctorate degree in Nutrition and Dietetics is the highest educational achievement and can be obtained through research from reputed universities in the state and city.
Job Opportunities and Job Roles:
There are many opportunities for nutritionists and dieticians in the field such as
Food industries
hospitals
colleges
government sectors, and
Private clinics etc.
NGO
Research organizations
Corporate / Industrial canteens
Fitness centers
One can also find business-related opportunities in
Nutraceuticals,
Marketing/Sales
customer service,
employee wellness,
human resources and
General management.
Journalism
Over and above this, a nutrition postgraduate can have his / her own clinic for
Nutrition counseling.
E.Approximate Salary Range:
The salary can be from Rs.8, 000 to Rs.32, 000 for freshers and increases with experience and knowledge.
F.Related Links:
STATRef is a society dedicated to the field of nutrition and dietetics. It has abundant resources to help students and healthcare professionals gather the facts and inform their patients. This information comes from a variety of publishers including the American Dietetic Association (ADA) and various authoritative information sources to promote excellent nutrition and health.
Web site link:http://www.statref.com