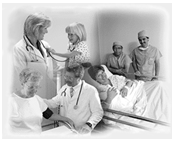 A. Field description
While in a hospital, doctors and nurses are the most visible, there are other professionals needed for its smooth running. M.B.A (Hospital & Health Systems Management) professionals are needed in Healthcare industry, Insurance Sector, Pharmacy and Allied Healthcare field for this. They ensure customer service, are administrators and take care of the backend processes.
B. Education Guide
Education Details & Eligibility:
Most Allied Health jobs require an Associate's Degree, which is a 2-year program typically from a vocational or technical school, or community college. The specifics depend on the exact position you are seeking and what program you attend.
Basic eligibility criteria:
MBBS/ BDS/ BE/B.Sc (Nursing)/ B.Pharm/ B.P.T./ B.O.T./ B.B.A./B.A. Hospital & Health Management/ B.Sc. Computer Science/ B.A./ B.Sc/ B.ComB.Com. Degree/ PG Dip Health/ Hospital Administration Examination of a recognized University or B.Sc. (Allied Health Sciences) Degree Examination of this Deemed Universities.
Course Duration:
2 years in reputed Universities in India on a regular or correspondence stream
Education Expenses:
Fees Rs.75, 000/- to Rs1,00,000 Per Annum depending on the university.
Bank loans & Private loans can be easily charged directly by contacting bank through the colleges administrative office.
C. Institutions that offer this Education
Almost all the deemed and general universities offer Associate Degree in this field.
For further details on courses please visit www.StudyGuideIndia.com
D. Job Opportunities and Job Roles
There are a plenty of jobs in Allied Healthcare sectors like:
Hospitals
Insurance
IT, ITES
Consultancy
Quality certification agencies
Medical Tourism
E. Approximate Salary Range
The Salary is from Rs.10, 000/- to 15,000/- for starters and it increases with experiences & knowledge.
F. Related Link
The following website can be help for further details:
www.sriramachandra.edu.in
www.alagappauniversity.ac.in
www.annamalaiuniversity.ac.in
www.bits-pilani.ac.in
Other Medical Science/Health care Career Option Archive