A. Field description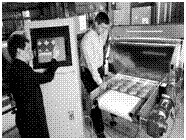 Today, it is a common sight to see people opening packets to munch on snacks and savouries, and even staple food like chapathis and idiyappams. Readymade dosa and idli batter are available in neat packages, as are a variety of other food products. This has become possible due to food processing technology.
Food processing uses methods and techniques to transform raw ingredients into food or transform food into other forms for consumption by humans or animals either in the home or by the food processing industry. Food processing typically takes clean, harvested crops or slaughtered and butchered animal products and uses these to produce attractive, marketable food products, often with long shelf life. Similar processes are used to produce animal feed. Extreme examples of food processing include the delicate preparation of deadly fugu fish or preparing space food for consumption under zero gravity.
B. Education Guide
Education Details & Eligibility
To become a Professional in this industry one should have a graduate degree ( B.Tech) or at least a diploma in Food, Nutrition and Health. The degree and postgraduate degree courses are offered by private and government arts colleges in India and abroad.
Basic eligibility criteria
A pass in senior or higher secondary examination (10+2) with hysics, chemistry and mathematics.
Course Duration
The course duration for the various programs is as follows:
Diploma in Food Processing & Technology is 2 years.
B.Sc (Food Processing & Technology) is three years.
M.Sc (Food Processing Technology), is offered as a two year program in various universities.
C.Approximate Education Expenses
The Total expense for doing Bachelor of Science in this field is as follows
B.Sc - Rs.36, 000/ per year - (3 Years)
M.Sc - Rs.49, 000/ per year - (2 Years)
Bank loans and private loans can be easily arranged by directly contacting the banks through the college administration.
D. Institutions that offer this Education
Almost all the deemed and general university offer Bachelor degree in Food, Nutrition and Health. For details on colleges offering these courses please visit www.StudyGuideIndia.com.
E. Job Opportunities and Job Roles
Job opclass="article1"portunities are plenty for B.Tech food processing graduates, with openings available in research and development, production, process control, quality control, quality assurance, Marketing, sensory analysis departments of various food processing industries, dairy industries, meat processing plants, confectionery industries etc. With the Government of India having a separate Ministry for Food Processing and the thrust given for food safety, post harvest technology and export, the job opportunities are plenty.
Some of them are listed below:
Senior Food Scientists
Coordinator of Food Composition
Food Technologists
Associate
F. Approximate Salary Range
The salary can be from Rs.9, 000 to Rs.18, 000 for starters and increases with experience and knowledge.
G. Related Links
Becoming a member of IFT offers you quick access to cutting edge technical and scientific information and an inside look at the latest advances in food marketing and engineering.
Web site link: http://www.ift.org
Other Home & Food Science Career Option Archive