A. Field description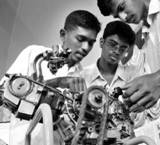 Automobile engineering or automotive engineering is the branch of engineering which deals with the study as how to design, manufacture and operate automobiles like buses, trucks, cars etc. and also their respective Engineering subsystems. This can also be grouped under vehicle engineering.
B.Education Guide
Education Details & Eligibility
An aspirant of automobile engineering must start his/her academic career in Science at intermediate level i.e. plus two (with Physics, Chemistry and Mathematics).
One can also opt for Diploma program after completion of his/her class 10th. In this case he/she will only be recognized with the status of a junior engineer. One, who still wants to study further after completing B.E B.Tech, can pursue M.Tech program offered by Indian Institutes of Technology and few other Engineering colleges/universities in the country.
For doing M.Tech the candidate needs to qualify the GATE examination.
Individuals with interests in research and development can take up PHD program after his/her post graduation studies.
Course Duration
Degrees in Automobile engineering are offered at universities worldwide. In India mechanical engineering programs typically take four years and result in a Bachelor of Automobile Engineering (B.E).
Approximate Education Expenses
The Total expense for doing Bachelor of Engineering in Automobile Engineering is as follows:
B.E Rs.50000/ per year- (4 Years)
M.E Rs.50000/ per year- (2 Years)
Bank loans and private loans can be easily arranged by directly contacting the banks through the college administrative.
Additional Courses
Being an automobile engineer a short term course in design or production could be useful to enhance your Career.
The following things can be undertaken/developed by the student to boost up his/her career in the particular field.
Design Courses
Pro-E, Catia, Ansys.
Higher Education Options
After successful completion of the Bachelor degree, the options for higher education are plenty. A person with the above degree can opt for Master of Engineering or do M.B.A
C.Institutions that Offers this Education
There are few institutions in India offering courses in automobile engineering. The demand is more as compared to the production.B.E/ B.Tech course in automobile engineering is offered by elite technological universities including the IITs and NITs. Here are some of the states offering these courses.
| | |
| --- | --- |
| College Name | University |
| | |
| Shri Surshdada Jain College Of Engineering | |
| | Anna University |
| | Anna University |
| | Anna University |
| | Anna University |
| | Anna University |
| Rajendra Mane College of Engineering and Technology | |
| A. D. Patel Institue Of Technology | |
| Madras Institute of Technology | Anna University |
| RUSTUMJI INSTITUE OF TECHNOLOGY | |
| Rajarambapu Institute of Technology | |
Job Opportunities and Job Roles
The possibility of an automobile engineer to find job is maximum in automobile manufacturing industries. Apart from it one can find jobs in service station, private transport companies and Defense Services. Self-employment is also possible in setting up automobile garages or maintenance of workshops. Job opportunities are well in India as well as in foreign countries including the Middle East. In Middle East the pay scales are good and opportunities are many.
One who is still having the desire to continue his/her educational career can also continue by joining M.Tech and PhD programs. In this case he/she could become a researcher or scientist and further help in the development of the field. One can also join as part time or full time lecturer or professor in engineering colleges/ university in India and abroad.
D.Approximate Salary Range
The average starting monthly salary of a fresh graduate of automobile engineering ranges between Rs. 10,000 to Rs. 15,000. The trend will increase with increase in experience and skills. Freshers from elite technological institutions including IITs, NITs, and BITS are offered very high pay package owing to their academic excellence and skills. After having three or four years of industrial experience, one can a expect salary up to Rs. 40,000 per month. There is no limitation for the right candidates to progress in this field.
E.Related Links
The SAE International is the premier membership society dedicated to advancing mobility engineering worldwide for Automobile Engineers.