A. Field description: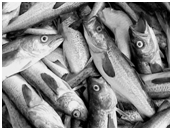 Fisheries Science, aimed at understanding and managing fisheries resources, is multidisciplinary encompassing Aquaculture, Fish processing technology, Fisheries environment, Fisheries Biology & resource management, Fishing technology & Engineering, Oceanography, Marine biology, Marine conservation, Marine ecology, Population dynamics. Aquaculture, Marine Fisheries Biotechnology and Fisheries Bio- informatics, are some of the new disciplines under it.
B. Educational Guide:
Education Details & Eligibility:
It is a four years course including six months field training in the final year. B.F.Sc is currently offered by 13 Fisheries Colleges (under the ICAR) in India.
Basic eligibility criteria:
Pass in Plus 2 examination with Biology - Physics - Chemistry to join the Fisheries College in Tamil Nadu.
Course Duration:
The course durations are as follows:
B.F.Sc - 4 years
M.F.Sc - 2 years
Ph.D- Offered in disciplines viz. Aquaculture, Fisheries
Biology, Fisheries Environment, Fish Processing Technology, etc.
C. Approximate Educational Expenses:
The total expenses for Fisheries Science course in Tamil Nadu could be as follows:
B.F.Sc. - Rs. 40,000 to Rs. 50,000 / per year (4 years)
M.F.Sc - Rs. 50,000 to Rs. 60,000 / per year (2 years)
Banks are also giving Educational Loans for such courses.
Options for Higher Education:
After the successful completion of the Bachelor degree, one can opt for Masters Degree in Fisheries Science or can do Ph.D in specialised Fisheries Subjects in India or abroad. With B.F.Sc qualification if one wins J.R.F Fellowship (Competitive test) of ICAR (Rs. 12,000 per month), one can also be assured of M.F.Sc seat in any of the Fisheries Colleges in India.
For doing PhD, fellowships (Research Associate) from ICAR, DBT and CSIR are available in our country.

D. Institutions that offer this education
For details on colleges offering these courses please visit www.StudyGuideIndia.com.
E. Job Opportunities:
A career in Fisheries science offers assured openings in the following MAJOR sectors of Fisheries.
i. Private Sectors.
Aquaculture - Farms.
Aquaculture - Hatcheries.
Fish Processing Industries.
Quality Central Labs.
ii. Government (State) - through Tamil Nadu Public Service Commission
State Fisheries Department (Assistant Director, Research Assistant, Fisheries Inspector) - on direct recruitment basis.

iii. Government (Central).
After passing A.R.S. exam of ICAR one can become Scientist in Central Fisheries Institutes (E.g. CMFRI, CIFA, CIFT, CIBA, NFDB, etc).
iv. Banks.
Agricultural Officers.
Fisheries Officers.
v. Abroad opportunities
Fisheries professionals have wide openings in Universities, Government Agencies (FAU) and Private Sectors abroad.
F. Approximate Salary Range.
The salary can be from Rs. 15,000 to Rs. 25,000 for freshers and much more for experienced hands/ experts.
Other Dairy/Acquaculture/Poultry Career Option Archive