A. Field description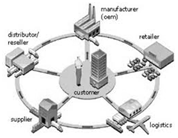 From the raw material to the final product, there is a chain of vendors involved, and at each link, there is value addition. This chain is called the Supply Chain, and its Management involves a strategic approach to integrated functional management.
B.Education Guide:
Education Details & Eligibility:
Globalisation has brought in many challenges, one of which is the free flow of goods and services across boundaries. Managing these in a cost-effective manner is the key to growth in business. In this context, logistics, supply chain management (SCM) and materials management have come into sharp focus in the industry, to get an edge in the market. The need to keep the chain lean and responsive is the priority.
The materials manager can no longer worry only about purchases, but has to manage inventories keeping costs under control. This has led to a great demand for efficient purchase officers. The SCM concept, though nascent in India, is getting importance in companies that have a global presence. Increased competition has thrown open many options to the consumer/ customer. To understand their needs and to ensure that they are met; the supply chain has to be worked out. Technology helps one keep abreast with the market trends, movement of goods and services, etc.
Course Eligibility:
Min. QualificationFor doing undergraduation, minimum qualification is 12th. Graduate Bachelors degree of any statutory Indian university or any other recognized foreign university is important for postgraduation or for employment. Any diploma awarded by Board of Technical Education of any State Govt or Central Govt. is valid.
PG Diploma, PG courses, Executive M.B.A are 1 year course
M.B.A, M.Tech are 2 years course
B.B.A and diploma are 3 years course
Diploma via distance education 6 months
Weekend courses 6 months
Approximate Education Expenses:
PG courses Rs 15, 000 per year
M.B.A Rs 30, 000 to 45, 000 per year
Diploma Rs 10, 000 to 15, 000 per year
C. Institutions that offer this Education:
For details on colleges offering these courses please visit www.StudyGuideIndia.com
D. Job Opportunities and Job Roles:
Logistics / supply chain management is currently one of the fastest growing employment fields, and professionals with good academic background from these fields are increasingly in demand.
While India has started to focus on Supply chain management practices, professionals are expected to achieve innovation and improvements, especially in global supply chain management environment.As supply chains increasingly become more global and the pressure to reduce costs and implement new technology intensifies, continuing education will play a crucial role in advancing the field of SCM and effecting even more positive change for businesses of all sizes.
The logistics industry contains many different careers, such as logistics and transportation managers and distribution managers. Here are some of the popular careers in logistics.
Logistics Analyst
Transportation Manager
Logistics Manager
Supply chain manager
Distribution Manager
Purchasing and materials Manager
Inventory Manager
E. Approximate Salary Range:
For beginners the salary may vary. Increment will be given based on their experience and knowledge.
Operational Level - Rs 6000 to 8000
Middle Level - Rs 10000 to 15000
Top Level - Rs 25000 and above
F. Related Links:
For further details visit the given Web Site link:
www.thehindubusinessline.com/2004/12/15/stories/2004121500720700.htm