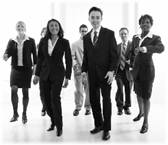 A. Field description
Human Resources Management refers to managing people or employees. Since for any professional services organization, people are the key assets, the Human Resources (HR) Business Practice plays a big role in the performance of any organization. A human resource person staffs and manages the employees within an organization.
The functions of an HR person include recruitment, management, and providing career direction of the employees within an organization. The more those organizations become knowledge/service/technology-oriented, the more human behavior becomes a competitive factor. Typically organizations follow a five-step HRM cycle: selection, performance, appraisal, rewards and development.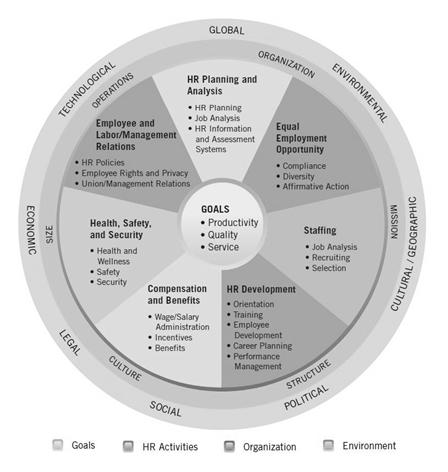 B. Education Guide
Education Details Eligibility:
To become a Human Resource professional, it is generally advisable to possess any Bachelor's Degree (B.E / B.Tech/ B.Sc /B.A.). Though this would form a good foundation for a career in Human Resources, it is desirable if the aspirants specialize themselves with a Master's degree.
Let us briefly review the various courses available for those who are interested in working in the HR function.
Diploma:
Graduate and Postgraduate Diploma courses with the duration of 12-24 months are available in India and abroad. You could pursue these Diploma courses through distance education too.
Under Graduate Degree:
Higher Secondary students (+2) with any group as their major or Diploma holders can choose to pursue an under graduate degree in Human Resource.
Prospective students have three major options before them while they consider their choice of courses for under graduate degrees in HR could be obtained either in the Arts stream (B.A. - HR), in the Science stream (B.Sc . - HR) or as a Business Administration degree (BBA - HR). This variation exists as Human Resources Management could be classified under arts as well as science. But generally, in India HR courses are classified under arts (B.A..) while those abroad are viewed as science courses ( B.Sc .).
Post Graduate Degree:
Graduates have an array of choices to follow while they consider postgraduate studies. Professionals who have at least 3-4 years of work experience will find MBA-HR to be an ideal course as they will be able to really relate to the concepts and understand them in their fullness, because of their work experience. Those who do not have any work experience or those who wish to pursue an academic career prefer to opt for M.A.. / M.Sc . in HR.
Required Skills: To become an efficient HR, one is expected to acquire the following skills:
Good communication skills, strong interpersonal skills, planning & listening skills, leadership & mentoring skills, competence & time management capacity, problem solving ability, and diplomatic skills among others. A good HR professional would be a change agent who is also pro-active and full of new ideas.
Course Duration:
Courses in Human Resource are available at a number of Colleges and institutes all over India and abroad. These courses are offered at the levels of Diploma, U.G. and P.G.
The course duration for the various programs is as follows:
Diploma in Human Resource - 2 years.
BBA . in Human Resource - 3 years.
MBA. in Human Resource - 2 years.
M.A. in Human Resources Management and Labor Relations program - one to two-year course in some universities.
C.Approximate Education Expenses:
The cost of education may vary from Rs. 50,000 per year at a good institution in India to over Rs. 7.5 Lakhs for a global degree abroad. Bank loans and private loans can be easily arranged by directly contacting the banks through the college administration
D. Institutions that offer HR Courses
For further details on courses please visit www.StudyGuideIndia.com
E. Job Opportunities and Job Roles:
A person who has completed a course in Human Resource has wide opportunities in the following industries:
I.T.
Automobile
Aeronautics
Manufacturing Sector
F. Approximate Salary Range:
The salary can be from Rs.8,000 to Rs.26,000 for beginners and increases with experience and knowledge.
G. Related Links:
The Society for Human Resource Management (SHRM) is the world's largest professional association devoted to HRM. http://www.shrm.org
The National HRD Network is an association of professionals committed to promoting the HRD movement in India. http://www.nationalhrd.org/
Other Human Resource/Human Rights Career Option Archive