A. Field description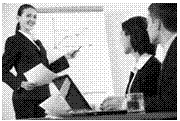 Business administration course provides graduates with skills to apply business principles and tools in an organizational setting. The word Administration is derived from the Middle English or administracioun , which in turn is derived from the French word administration. A student learns to apply theories to practical business situations as business environments are complex and require vast knowledge of operations management, project management, economics, accounting, finance, and strategic management.
B.Education Guide
Education Details Eligibility:
Aspirants who want to become an Executive or a Manager or a Business analyst can do their courses in Business Administration in various levels.
This courses can be done in a diploma, undergraduation and postgraduation levels.
The eligibility criteria for this course in different levels are structured below.
Course

Course duration

1 year

3 Years

2 yrs or 1 yr PG Diploma course in B-Schools /Universities

Eligibility

10th & 12th with any specialization

10th & 12th with any specialization

Bachelors degree in any specialization

Entrance

Can pursue through correspondence

After completing 12th can apply to the colleges and various universities providing the course. Entrance exams are as per the colleges or university norms.

TANCET for All colleges in Tamilnadu,
CAT & /MAT for colleges and universities all over India.
Private and government colleges in India and abroad offer diploma, degree and postgraduate degree courses in Business Administration. Masters in Business is offered on merit in the TANCET or CAT/MAT scores. In some Universities and B-Schools, entrance scores followed by Aptitude test, Group discussion and Interview will be conducted for selection.
Approximate Education Expenses:
The Total expense for doing Bachelor's are as follows
Bank loans and private loans can be easily arranged by directly contacting the banks through the colleges administration.
C. Institutions that offer this Education:
Almost all the deemed and general university offer Bachelor degree in management. For details on colleges offering these courses please visit www.StudyGuideIndia.com
D. Job Opportunities and Job Roles:
Being an administrator involves creativity and marketing, which are the two main criteria determining the career success for a professional.
Personal Manager
Export Manager
Finance Manager
Tutors
Professors
Advisors
Consultants
E. Approximate Salary Range:
The salary can be from Rs.13000 to Rs.38000 for starters and increases with experience and knowledge.
F. Related Links:
The Business Administration Society is dedicated to providing members with resources that will enable them to make a more informed choice of a major or career, and to provide contacts with business professionals regarding how members can best prepare for the job market, as well as leadership roles.
Web site link: http://wehner.tamu.edu/
Other Management Career Option Archive