A.Field description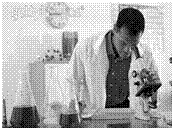 Chemists, trained in the science of chemistry, study the composition of matter and its properties such as density, acidity, size and shape and describe them in terms of quantities, with detail on the level of molecules and their component atoms. Chemists carefully measure substance proportions, reaction rates, and other chemical properties.
B. Education Guide
Education Details & Eligibility:
To become a Chemist, one should have a graduate degree (B.Sc.) or at least a diploma. The degree and postgraduate degree courses are offered by private and government colleges in India and around the globe.
Basic eligibility criteria:
10 +2 (Higher Secondary students) with science group as the major.
Course Duration:
Training in this field is available at a number of schools and institutes all over India. These courses are offered at the levels of:
Diploma, U.G and P.G
The course duration for the various programs is as follows:
Diploma is around two years.
B.Sc chemistry is around three years.
c chemistry is offered as a two-year program.
Approximate Education Expenses:
The total expense for doing degree in chemistry and its related fields are as follows :
Bank loans and private loans can be easily arranged by directly contacting the banks through the college administration.
C. Institutions that offer this Education
Almost all the deemed and general universities offer Bachelor degree in Chemistry.
For more information on colleges visit www.StudyGuideIndia.com
D. Job Opportunities and Job Roles
Some of the job openings/departments available are:
Research Engineer,
Technologist,
Consultant,
Tutor etc.,
E. Approximate Salary Range
The salary can be from Rs.8500 to Rs.17000 for starters and increases with experience and knowledge.
F. Related Links
The Royal Society of Chemistry (RSC) is a learned society (professional association) in the United Kingdom with the goal of "advancing the chemical sciences."
Web site link:http://www.rsc.org
Other Chemical/Chemistry Career Option Archive