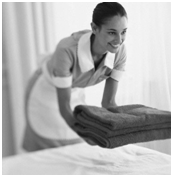 A. Field description
'Atithi Devo Bhava' is the motto of every Indian household and translated, simply means the guest is god. Catering to their needs and making sure they are comfortable is integral to being the host - be it in a casual family visit or when hosting an event.
This same concept is now institutionalized as an industry with the proliferation of hotels and other similar set-ups. With tourism gaining momentum, hospitality has become a critical component today.
B. Education Guide
Education Details & Eligibility:
A person aspiring to get into the field of Hospitality or housekeeping has to obtain one of the following degrees or any other related course to become a certified profession.
Course Duration:
Training in this field is available at a number of schools and institutes all over India. These courses are offered at the levels of
The course duration for the various programs is as follows:
Diploma in Hotel Management is around two years.
B.Sc. Degree in Hotel Management and tourism is around three years.
Post Graduate Diploma (OR) M.Sc is around two years.
Approximate Education Expenses:
The Total expense for doing a course in Hotel Management at any internationally recognized institute is as follows
B.Sc - Rs. 40000/ year - (3 Years)
M.Sc - Rs. 55000/year - (2 Years)
Bank loans and private loans can be easily arranged by directly contacting
the banks through the college administrative.
C. Institutions that Offer this Education
Almost all the deemed and general universities offer degree in Hotel Management in India and Abroad.
For further details on courses please visit www.StudyGuideIndia.com
D. Job Opportunities and Job Roles
Person who completes this course can join in hotels, international malls and restaurants in the field of housekeeping and hospitality. With experience, they can try opportunities abroad as Hospitality Managers in various institutions.
E. Approximate Salary Range
The salary can be from Rs.9500 to Rs.30000 for freshers and increases with the persons' experience and knowledge.
F. Related Links
An online compendium of web sites of interest to students and those who follow housekeeping.
Web site link: www.vegansociety.com
http://www.nchmct.org
Other Catering/Hotel Management Career Option Archive