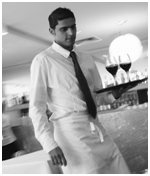 A. Field description
Travel today has become a common feature. One travels for leisure and on work. This has given a spurt to the number of hotels coming up in every city. This in turn has given rise to a greater demand for managers who keep the running of the hotels smooth, ensuring the highest quality of service.
A hotel manager or hotelier is required to handle the everyday functions and management of a hotel. Managers work as a team, with each member specializing in a certain area of interest. There are several lines one can pursue if one is interested in this segment.
Hotel management requires the aspirants to be ready for socializing and understanding the needs of the people. Since a good hotel also attracts tourists from abroad, the expectation of quality is that much higher.
B. Education Guide
Education Details & Eligibility:
A person aspiring to get into the field of Hotel management has to obtain one of the following degrees or any other related courses to become a certified profession.
Basic eligibility criteria:
10th +2 (Higher Secondary students) with any group as the majors are eligible for these programs.
Course Duration:
Training in this field is available at a number of schools and institutes all over India. These courses are offered at the levels of
The course duration for the various programs is as follows:
Approximate Education Expenses:
The total expense for doing a course in Hotel Management at any internationally recognized institute is as follows
Bank loans and private loans can be easily arranged by directly contacting the banks through the college administration.
C. Institutions that offer this education
Almost all the deemed and general universities offer degree in Hotel Management in India and Abroad.
For details on colleges please visit www.StudyGuideIndia.com
D. Job Opportunities and Job Roles
Lots of lucrative and interesting openings are there for hotel management graduates in various fields like:
Hotel & Restaurant management
Airline Catering and Cabin Services
Club management
Cruise Ship Hotel Management
Hospital administration and catering
Hotel and Tourism Associations
Forest Lodges
Guest Houses
Institutional Management
Catering departments of railways, banks, armed forces, shipping companies.
Hotel and catering institutes
Self employment
Guest/ Customer Relation Executive in Hotel and other Service Sectors
Kitchen Management/ Housekeeping Management Trainee in Hotels
Flight Kitchens also offer opportunities for career building
Executive multi skilled in Fast Food Chains
Hospital and Institutional Catering Executives
Faculty in Hotel Management/ Food Craft Institutes
Cabin Crew in National and International Airlines
Catering Officer or Chef in Cruise lines
Marketing/ Sales Executive in Hotel
Executive in Tourism Development Corporations and Resort properties
Self employed entrepreneurs
E. Approximate Salary Range
The salary can be from Rs.9, 500 to Rs.26, 000 for freshers and increases with the person's experience and knowledge.
F. Related Links
National Council for Hotel Management and Catering Technology and its affiliated institutes constantly endeavor to impart Hospitality, knowledge, skills, concepts and techniques in the right environment for the students to learn and emerge as global Hospitality Service providers.
Web site link: http://www.nchmct.org/
Other Catering/Hotel Management Career Option Archive