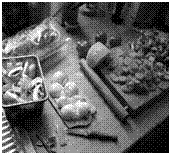 A. Field description
The role of a homemaker has larger implications as she nurtures the family and indirectly, the society. Home Science education, designed and structured around the urban homemakers, their family and community, today encompasses the rural family with emphasis on interfamily resources due to the advent of Agricultural Universities.
B. Education Guide
Education Details & Eligibility:
To become a Professional in the Home Science one should have a graduate degree ( B.Sc .) or at least a diploma in Home Science. The degree and postgraduate degree courses are offered by private and government colleges in India and abroad.
Basic eligibility criteria:
+2 (Higher Secondary students) with any group as the majors can choose Bachelor degree in Home Science (B.Sc ).
Course Duration:
The course duration for the various programs is as follows:
Diploma in Home Science is two years.
B.Sc (Home Science) is three years which includes the following disciplines:
Human Development
Textiles and Apparel Designing
Food Science and Nutrition
Food Science and Food Quality Control
Rural Development and Sociology
M.Sc (Home Science) is offered as a two year course which includes the following disciplines:
Food Science and Nutrition
Food Service Management and Dietetics
Interior Design and Resource Management
Human Development
Extension and Communication
Textiles and Fashion Apparel
Bio-Textiles
Approximate Education Expenses:
The Total expense for doing Bachelor of Science in Home Science is as follows
B.Sc - Rs.20, 200/ per year - (3 Years)
M.Sc - Rs.25, 000/ per year - (2 Years)
Bank loans and private loans can be easily arranged by directly contacting the banks through the college administration.
C. Institutions that offer this Education
Almost all the deemed and general university offer Bachelor degree in Home Science. For details on colleges please visit www.StudyGuideIndia.com
D. Job Opportunities and Job Roles
Some of the job openings available are in the fields as follows:
public or private sector,
Entrepreneurial unit.
apparel designer
health clubs and fitness centers
food processing industry
Research and development sector.
Counselors
Tutors etc.,
E. Approximate Salary Range
The salary can be from Rs.10, 000 to Rs.18, 900 for starters and increases with the persons experience and knowledge.
F. Related Links
The following website can be browsed for further reference.
Website link: http://www.scienceinsocietyadvanced.org/
Other Home & Food Science Career Option Archive