A. Field description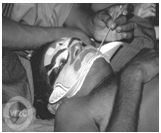 Fine arts deals with art forms like painting, sculpture, ceramics, dance, and drawing. It requires an eye for beauty and the ability to express it aesthetically. With time and technology, novel forms of art such as digital art, filmmaking, and multimedia have enabled an artist to broaden the scope. A career in fine arts not only involves the creation or study of artwork, but includes the ability to market it as well.
B. Education Guide
Education Details & Eligibility
To become a Professional in Fine Arts, one should have a graduate degree (B.F.A). The degree and postgraduate degree courses are offered by the government colleges on fine arts.
Basic eligibility criteria
+2 (Higher Secondary students) with any group as the major or Diploma holders can choose Bachelor degree in Fine Arts (B.F.A) as their career course.
Course Duration
Training in this field is available in institutes all over India. These courses are offered at the levels of
The course duration for the various programs is as follows:
four year B.A. degree
One year international programme in Visual Arts
Three year advanced Diploma in fashion design
Two year diploma in Painting, Textile Design and Photography
Two Year Diploma & 1-Year Certificate Course in Computer Graphic
C. Approximate Education Expenses
The total expense for doing Bachelor of Arts is as follows:
Bank loans and private loans can be easily arranged by directly contacting the banks through the college administration.
Additional Skills
Anybody willing to pursue a career in fine arts needs to be creative and imaginative. Patience, keen observation, eye hand coordination are some of the traits required to be successful in the field.
Higher Education Options
After successful completion of the Bachelor degree, the options for higher education are plenty. A person with the above degree can opt for Post Graduation.
D. Institutions that offer this Education
Almost all the deemed and general universities offer Bachelor degree in Fine Arts. For more information on colleges, visit www.StudyGuideIndia.com.
Job Opportunities and Job Roles
A person who has completed B.F.A has wide opportunities in the following fields of industries.
Advertising agencies
publishing industry
Graphic arts
Teaching
Films and theatre productions
Textile industry
A fresher can opt for various job openings like
Visualizing professional
Illustrator
art critic
artists
art professionals
Design trainer
E. Approximate Salary Range
The salary can be from Rs.4,000 to Rs.9,000 for freshers and increases with experience and knowledge. Those who are working in media and publishing houses, advertising agencies and textile industries can get lucrative pay packages of Rs 12,000 to Rs 25,000 per month. Fine arts professionals working in theatres, drama and production houses can get a salary of Rs 8,000 to Rs 20,000 per month. Those in teaching field also have good earnings.
Prospects of success in the field of fine arts depends on the individual's talent, motivation, and interest, awareness of market for their creativity, experience and exposure.
F. Related Links
The Fine Arts Society is the best and leading cultural and community service institution in Mumbai for fine arts. Membership of the Fine Arts Society is considered most prestigious and sought after.
Web site link:www.fineartschembur.com
Other Music/Dance/Singing/Painting Career Option Archive